The global gaming market is estimated at $152 billion, with 45% derived from mobile games. The mobile game market is constantly evolving, new tactics and even platforms, like Apple Arcade, are being introduced. As a mobile game developer, being dynamic and staying up on the latest trends is of the utmost importance. Staying on top of these trends will help make a more engaging and profitable mobile game.
Keeping this in mind, below are the top freemium tactics of 2020:
RETENTION IS (STILL) KING
Mobile game developers must remember that freemium games begin and end with a good retention strategy that keeps users engaged.
Daily Tasks: Set-up daily tasks that pass the Starbucks Test. One of them can be opening the app on a daily basis. These should be fairly simple to complete and offer a reward, encouraging users to integrate gameplay into their daily lives.
Rewards Pack on User Birthdays: Give users some kind of bonus on their birthday to enrich their personal relationship with the game.
Challenge Dormant Users: After 3 days, give users a special, temporary challenge to reengage them with the app. Temporary promotions can be an effective way to instill a sense of urgency in the call-to-action and trigger users to open the app.
Promotion Before Subscription/Free Trial Ends: Tempt the user to sign-up or to extend their subscription by offering a temporary promotion 24-48 hours before their free trial/subscription ends.
When it comes to measuring retention, check out the model retention rates below from The Tool (Performance-Based Mobile ASO):
Day 1 Retention – 40%
Day 7 Retention – 20%
Day 28 Retention – 10%
Retention can also be tracked hourly instead of daily where Day 1 Retention will be the percentage of users who returned within 24-48 hours from the install. Here's how it might look in analytics systems such as devtodev (via The Tool):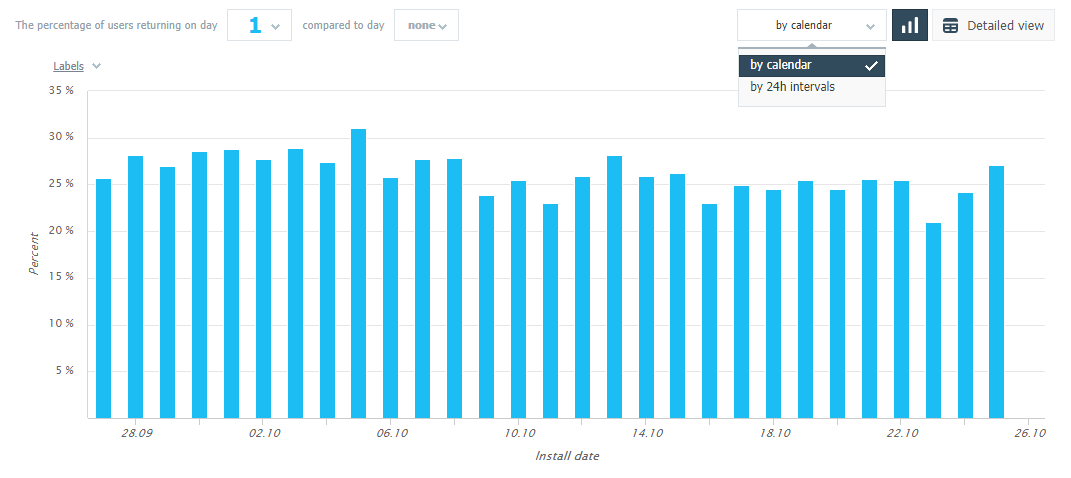 OUTSTREAM VIDEO ADS
Outstream Video is a new type of video ad unit, referred to sometimes as "native video", designed for targeting mobile users.
Outstream Video ads do not require placement within a Youtube video. They play with the sound off on mobile screens when more than 70% of the ad is visible. The user can tap the ad to turn the sound on and restart the video from the beginning, or they can continue scrolling. When less than 70% of the ad is visible, the video pauses.
Advertisers such as the Hong Kong tourism board have had great success using Outstream Video ads, delivering 30% incremental reach with a 40% lower cost per completed video and 85% lower CPM.
REWARDED ADS PAY OFF
When it comes to monetizing a mobile game through advertising, rewarded ads remain at the top of the food chain. A recent survey of app publishers asked what their most successful monetization method was. Rewarded Video Ads won with 75% of the vote.
By offering users some kind of in-game reward, such as an extra life, a bonus item, or a new avatar, app developers can improve UI and engagement while encouraging ad views without bothering the user. Rewarded ads remain the ad unit with the highest earning potential.
LOOT BOXES
A loot box is a randomized box of in-game prizes. Users pay for an in-app purchase, but there is no guarantee of whether it will contain gold or pennies, the user has to make the decision to purchase in exchange a random reward. While this tactic is somewhat controversial in Europe where Belgium and the Netherlands have cracked down and labeled it gambling, it remains a popular tactic. Loot boxes are particularly effective for  Whales, wealthy mobile game users who will readily pay to improve their performance in the game.
SELL YOUR DATA
The collection and sale of data is a massive industry. If your app offers the technical means to collect user-generated data such as geolocation, it may be worth it to acquire user consent to license that data.
Applications like Waze & Foursquare receive community-generated data from their users and effectively leverage it to monetize their applications. Waze licenses data to businesses placing location-based ads, whereas Foursquare licenses point of interest geolocation data to Google & Apple for their first party GPS apps Apple Maps & Google Maps.
CONCLUSION
It is important to keep in mind that monetization is the icing on the cake—without an engaging game that hooks users, there will be nothing to monetize. However, making key decisions in the development process with the monetization strategy in mind will *literally* pay off in the long run.
Check out our previous blogs on Mobile Game Monetization for an overview of the fundamentals.