For more than a decade, UpCity's mission has been—and continues to be—to help businesses find B2B service providers they can trust. The UpCity Recommendability Rating was developed to determine a service provider's credibility and recommendability, giving UpCity the confidence to recommend them to the more than 2 million businesses that visit their site.
Each year, UpCity analyzes and scores more than 70,000 service providers based on their UpCity Recommendability Rating and acknowledges the top national and local providers with an UpCity Excellence Award. The results are in, and we won!
We are proud to announce that the Mystic Media team has been recognized as one of the top B2B service providers of 2022 in the Salt Lake City area by UpCity!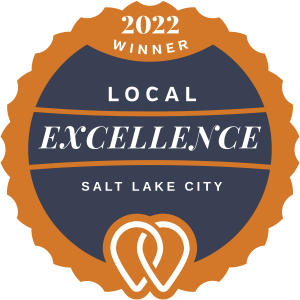 Joe Banks, SVP of Engineering at UpCity, had this to say about Mystic Media:
"The team at Mystic Media brings decades of combined experience and quality that helps them stay ahead of the curve in all things digital. We are proud to recognize them with a 2022 Local Excellence Award. Congratulations!" —Joe Banks, SVP of Engineering, UpCity
This recognition has been driven in large part by our 4.9-star review rating on UpCity. Here are a few of our favorite pieces of feedback we've received from our incredible customers:
"This was a joint effort where we developed the hardware interface between our controller and Mystic Media developed the iOS app. Consequently, there was a lot of information exchange and testing during the process. The basic user interface was completed by Mystic Media in very short order. The rest of the development was the implementation of the various inputs and outputs. The interface retrieves and passes to the door controller via an RS485 communication port. The commands the app sends to the controller via the interface are in hexadecimal. I was very pleased with the speed and efficiency of the development and the 'can do' attitude of Mystic Media. They are very professional, respectful, and easy to work with. I would use them again."

– Carl Goodman, June 2021
"We hired Mystic for a large and complex project and are very happy with our experience. We were well out of our element with only an idea and a rough one at that. Their creative and knowledgeable team took our idea and pulled us into a process that was efficient and truly felt like a partnership. They care and want to help us see our vision through. We are currently very close to completion and I look forward to them being a valuable part of our journey forward!" – Russell Taylor, June 2021
Throughout the changes our industry has seen, the one thing that never gets old is seeing our clients succeed. We are so grateful for the collaboration opportunities we've had over the years and are honored to receive this recognition. 
Learn more about the UpCity Excellence Awards.